Explore with Me
When people ask me 'what is your favourite city to guide in?', I tell them I love them all for different reasons. I like Washington because of the grandeur of the buildings, I like Boston because of its history and its culture; New York because it is New York, there is always something exciting; Chicago because of its different foods and the vibe that you get with the music; California because of the weather and the scenery and the beautiful places like San Francisco.
Book a Tour
Experience living history in the birthplace of French North America, Quebec City, a UNESCO World Heritage Site and one of the most romantic cities in Canada!
EMBRACE ALL THE WINER GOODNESS AT CARNAVAL DE QUEBEC AND HOTEL…
About Steeve
A master storyteller, Steeve has developed a guiding formula that has tourists raving long after their private tour has ended. Few tour guides take the time to tailor a private guided tour to not only their client's requests but to their background and personality as well. It is this attention to detail, and his passion for he has chosen to do, that sets Steeve apart from other private tour guides.
Learn more
TripAdvisor Reviews
We were in Quebec City overnight on a cruise ship and booked with Steeve (who speaks perfect English as well as French) 8 months prior to the trip. ... read more Changes had to be made and he graciously accommodated them. The time was shortened, but as he said in his text, he was determined to show us a good time which he certainly did! Our 5 hours began with a walking tour through the old town with an engaging bit of history. The driving tour went through more of the city with a stop for lunch at a great shop with wonderful fresh salads and sandwiches. Later Steeve took us to some personal favorite places on the Ile d'Orleans. We saw strawberry fields stopping to sample just picked berries --and this was in October! We ended with a trip to the famous Montmorency Falls. In each place Steeve shared his knowledge of the city and his passion for sharing his city with tourists. He was knowledgeable, considerate and charming! You could not ask for a better guide! He will work with you to make the most of the time you have.

We shared that we had to disembark the next morning at 4AM to get to the airport for a 6AM flight. After some discussion, he volunteered to be at the ship at 4 AM and take us to the airport for the same price as a taxi and we knew we could rely on his being there! What a comfort to have him with us the next morning!
CincyJan


October 17, 2017
I had the privilege of having Steeve for my private tour guide in Quebec. Not only did he take me wandering around the old city - pointing out hidden gardens,... read more giving me the stories behind all the places we visited - but he also made...More
Sarah P


May 26, 2018
Myself, my wife, and our 4 children (ages 15, 10, 10, and 9) had an amazing day of touring with Steeve! Steeve has both a love and deep knowledge... read more for Quebec and is a gifted guide. He weaves his knowledge of history with fun commentary which made for a gfreat tour, for the adults, our teenage son, and our younger daughter and sons. Our entire family enjoyed the day of touring which included both new and Old Quebec, Isle of Orleans, Montmorency Falls, and several stops for local hot chocolate, fudge, and a delicous local lunch. Steeve also made recommendations for places to eat and actives to do on our own for the rest of our time in Quebec City. Can't recommend Steeve enough for all ages!
brianeK8604RI


December 22, 2019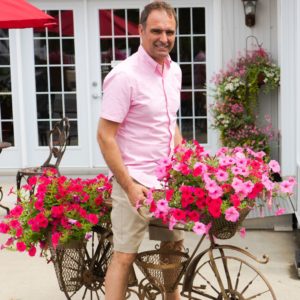 Contact Steeve
Planning a trip to Québec City? Contact me to arrange a private personal tour or a large group tour of Québec City and its surrounding regions.
Phone: 1-418-520-6565
Email: gaudreault.steeve@live.ca